Completed: Using drone-mounted georadar to map lakes, watercourses and basins
Terminated, collaborative project between Geopartner Inspections and the Technical University of Denmark, DTU
Project title: Mapping the depth of water and the thickness of sediment layers using drone-mounted georadar (GPR)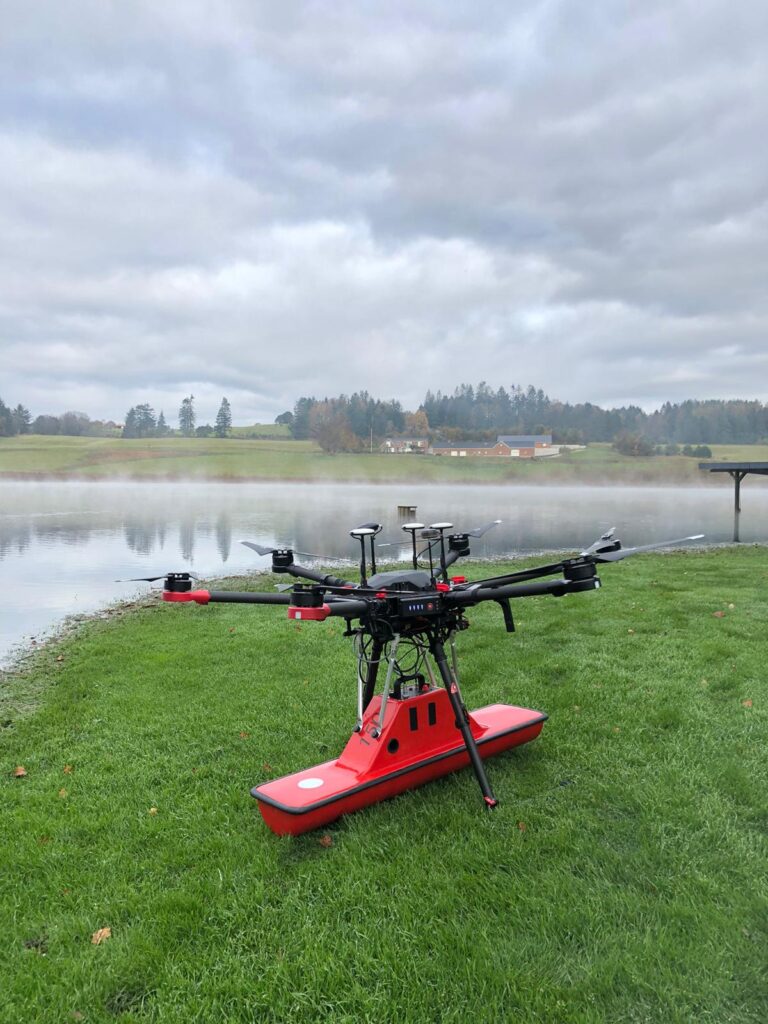 Watercourse, lake and rainwater basins maintenance requires detailed knowledge about the depth to the bottom and the thickness of accumulated sediment layers. Sediment accumulation reduces the available space for water storage, which can result in rainwater basin overflow and reduced capacity.
River bed and sediment layer thickness measurements are typically performed on-site. Measurements are very cost-intensive and are often associated with a degree of risk (especially in rainwater basins or shallow watercourses where boats are not an option).
Drone-mounted measurement surveys – high quality – low price
Drone-mounted georadar data collection permits measurements at high spatial resolution at a lower price. At the present time, no drone-mounted sensors and systems are recognised as being able to monitor the water depth and sediment layer thickness of freshwater bodies.
GPR (Ground Penetrating Radar) appears to be the most promising technology as it is unaffected by water turbidity, light intensity, illumination geometry and bed colour. A durable drone-mounted GPR setup has not yet been introduced to monitor water depths and the thickness of accumulated bed sediment, however.
Introducing a new and efficient GPR setup
With this project, Geopartner Inspections hopes to introduce a georadar setup that will enable fast and effective action, delivering to customers a full-feature package that includes data collection and processing, quality control and the generation of 3D models of depth (depth map) and accumulated sediment.
Researchers from DTU are contributing to this project to develop the best GPR configuration, data processing and drone pilot practices with a view to data collection and validation of drone-mounted measurements of water depths and sediment layer thicknesses.
The project tests GPR technology, also for the registration and mapping of underground pipes and artefacts above ground.
Link to Center for Water Activities DTU with project description here
Contact me if you would like to find out more: