Presentation of Geopartner's work with satellite data at Copernicus Industry Workshop
Arranged by the EU, an international workshop was held at Copernicus Industry Workshop on 22 November. Here, Geopartner presented our work towards providing our customers with usable information about ground motion, based on satellite calculations and geological models.  The InSARinSub project we presented is being conducted in collaboration with engineering company Geo and DTU Space. The project is backed by the European Space Agency, ESA.
Watch Geopartner's presentation at the workshop here (from 1:40:10 to 1:56:20)
The project is based on calculations provided by the Danish Agency for Data Supply and Efficiency (Styrelsen for Dataforsyning og Effektivisering/SDFE) but aims to use data from the future European Ground Motion Service, a project that the EU is working on right now and is expected to go public over various stages, starting at the end of 2021.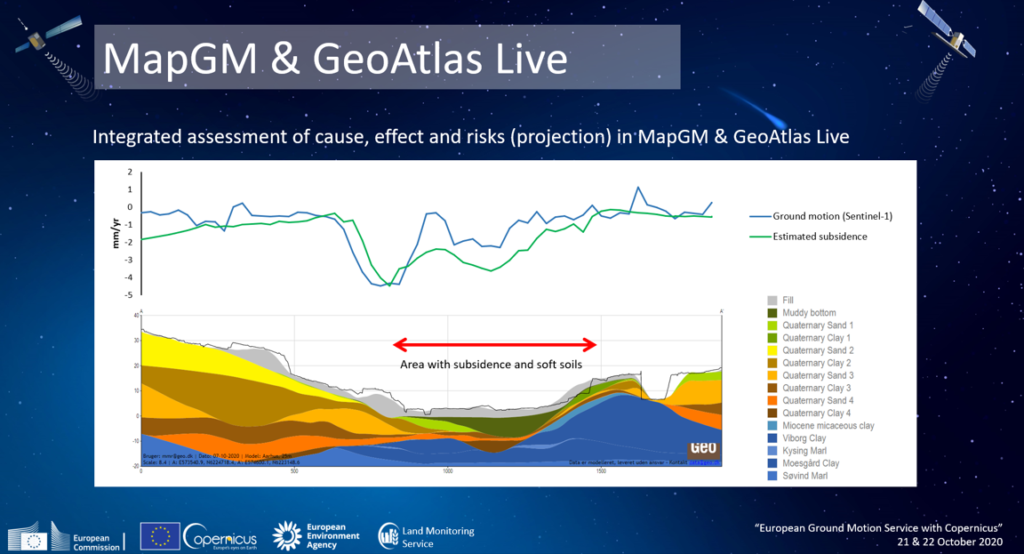 New products to make satellite data about ground motion usable by companies
This new service from Geopartner will be called Map GM and will offer products to do with ground motion and subsidence, specially customised for use in various customer segmentations. From 2022, Map GM will be based on the future European Ground Motion Service (EGMS), and will contain standardised information about ground motion throughout the EU, with the exception of Greenland.
The EGMS service will be based on calculations using sequential series of satellite images from the European Sentinel-1 radar satellite. Products will be very similar to the products that have been made available by SDFE that were based on calculations during 2018 and 2019.